Do you usually have a trouble in finding a qualified custom fit suits in SLC, Utah? Or do you often go to big city to find your outfits? Utah Woolen Mills is celebrating their 110th year in business this fall and has specialized in custom suits throughout that time. With plenty of resources to draw from, as well as a very well trained staff. They are sure to get you in the right suit for you.
            Utah Woolen Mills, located at 59 W. South Temple, Salt Lake City, Utah, is a historic men shop that Esquire magazine endorsed. They provide many famous brands of custom suits such as Brioni, Isaia, Ravazzolo, Oxxford, and Byron that come from different countries and have diversities of style. Also, their private brand: Richards Street is a popular craftsmanship of retro fashion. The price range of suits would be from $895 to $8,000.
            Now, if we are talking custom fit suits, Utah Woolen Mills has a ton to offer. Not only do we have some of the best manufacturers in the world to draw on, we also have an in house tailor that can tweak the final suit on site to make sure that you are happy walking out the door. We are happy to take measurements, try on models or use an existing suit for your new custom suit. We have the availability to use Loro Piana, Holland and Sherry, Ariston, Vitale, E. Thomas, Scabal and Dormeuill fabrics.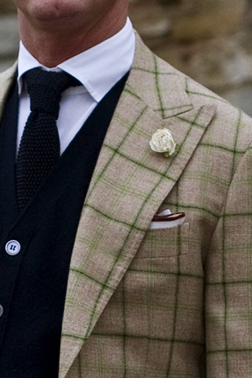 Our custom fit suits are made in Italy, Canada or here in the U.S. depending on which manufacturer you prefer and start at 1599. Typical turn-around time on our custom suits ranges from 4-6 weeks. You can anticipate spending a half hour to an hour for fitting and fabric selection. Once your first suit is made, we will keep measurements on file for you, making subsequent suits a matter of fabric selection.
            If you have never owned a custom fit suit, try it. You'll never go back. There is something special about making and wearing something that was made for you. We've been around 110 years. We know our stuff. We'll fit you like you've never been fit before.